Missy Hadden
The rules of Reading with the Rays presented by Suncoast Credit Union are simple:
Go to your local library to get your game card.
Choose your favorite books from your local library to read over the summer.
As you read, track your hours by rounding the bases on your game card and collect Rays rewards along the way.
When you read enough hours to get to first base, ask your parent or guardian to initial your card; then bring it to your local library.
The librarian will initial your card and give you a reading reward.
Round the bases by reading a total of 24 hours this summer and receive two tickets to a Rays game!
Keeping score
On the back of the card, keep track of your favorite books and articles you read this summer. Read around the bases — 24 hours total!
Read 3 hours to get from Home Plate to First Base
Reward: Reading with the Rays jelly bracelet
Read 5 more hours to get from First to Second Base
Reward: Reading with the Rays arm sleeve
Read 7 more hours to get from Second to Third Base
Reward: Reading with the Rays water bottle
Read 9 more hours to get from Third Base to Home Plate
Reward: Reading with the Rays ticket voucher redeemable for two complimentary tickets to a 2017 Rays regular season home game (select dates and restrictions apply).
Keeping your mind strong and healthy is important, especially over the summer months. The best way to exercise your brain is by reading. As you can read on the pages of the Reading with the Rays Newspaper in Education publication, Tampa Bay Rays baseball players know the importance of staying healthy and strong and keeping their minds active.
Every Wednesday from 10am – Noon  beginning June 7th
*Each child that reads to Zoee will receive a new book.*
*New books are limited to the first 50 children to read to Zoee.*
Studies show that children who read aloud to therapy dogs on a regular basis demonstrate drastic improvement in their reading skills! Animals provide a safe, non-judgmental presence for struggling readers.
Help your child better their reading skills by having them read to Zoee. Just 15 minutes a session can provide them with necessary life long skills.
Children can read to Zoee 15 minutes or longer during each session.
Reading Club begins June 1st and ends July 31st
Research shows that kids who read over the summer break retain the skills that they developed during the school year.  This summer our library will provide a reading-based program for local kids – – with great prizes.  Here at the Latt Maxcy Memorial Library, we make summer reading FUN!
If you're a reader, read to yourself or your family.  If you're not a reader yet, have a family member read to you.  And keep reading!  The more books you read the more chances you have to win.  Each time a child turns in their reading log with the titles of 5 books that they have read or had read to them, they'll receive a small toy prize and a raffle ticket.
Raffle tickets will be entered into a drawing for a grand prize.  There will be one grand prize for each age group; one for children 3 through 5 and one for children 6 through 11.
Prize drawing will be held on July 31st at 6pm.
Monday, June 5th at 6:00 p.m. Summer Program Kick-off
Family Night  –  – –    John Storms and the World of Reptiles
Thursday, June 15th at 10:00 a.m.  – BUILD
Stories and Crafts about Construction
Special guest, Michelle Hutto, Hutto Construction
Thursday, June 29th at 10:00 a.m. – SENSES
Stories and Crafts about our five senses
Special guest, Debbie Norris, RN
Thursday, July 13th at 10:00 a.m. – DISCOVER
Stories and Crafts about our outside world
Special guest, Anna Clarke – Tiger Creek Preserve
Thursday, July 27th at 10:00 a.m. – TRANSFORM
Stories and Crafts about recycling
Monday, July 31st at 6:00 p.m. Summer Program Finale
Family Night – – – The Royal Court Magician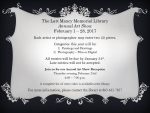 The Latt Maxcy Memorial Library will host it's annual Art Show  – Feb. 1 – 28, 2017.  Deadline for entry is Tuesday, January 31, 2017 at 5:00 p.m.  No late entries will be accepted.
Categories for entries this year are 1) Paintings and Drawings and 2) Photography – Film or Digital.
• Entries must be the original work of the artist exhibiting.
• Work must have never been exhibited in this show before, and artists are required to exhibit work completed during the past two (2) years.
• Paintings, photography, and drawings must be equipped for hanging.
No saw-toothed hangers are allowed. Wire hangers are preferred.
• All works must be two-dimensional (2-D).
Awards Reception will be held on Thursday, February 23rd from 6:00 – 7:00 pm.
For  more information, please call 863 635-7857.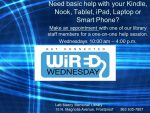 Need basic help with your electronic devices? Our staff can help! Call today for an appointment on our Wired Wednesdays – we can help you learn more about your device and help you with our library's free downloadable media service, Overdrive.
The Threads of Our Community Quilt group will meet on the second Thursday of every month here at the library.  The group meets at 5:00 p.m. in the common area of the library. For more information please contact Kellie or Teresa at 863 635-7857.
Our Books with Friends Book Club meets the first Thursday of every month at 6:00 p.m. in the Pat Wilson Florida Collection room.  Join us as we discuss all types of genres from Fiction to Mystery to Biographies and more!  For more information please contact Missy or Teresa at 863 635-7857.
 Save the Date – November 2, 2015 at 6:00 p.m.  Please join us as we host  Frostproof author, Patricia O. Malnati, as she presents her new book,  "After you."
This collection of heartfelt poems, penned with emotional and inspirational sincerity will touch all who have loved, and sometimes lost in their lives.