Missy Hadden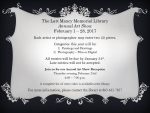 The Latt Maxcy Memorial Library will host it's annual Art Show  – Feb. 1 – 28, 2017.  Deadline for entry is Tuesday, January 31, 2017 at 5:00 p.m.  No late entries will be accepted.
Categories for entries this year are 1) Paintings and Drawings and 2) Photography – Film or Digital.
• Entries must be the original work of the artist exhibiting.
• Work must have never been exhibited in this show before, and artists are required to exhibit work completed during the past two (2) years.
• Paintings, photography, and drawings must be equipped for hanging.
No saw-toothed hangers are allowed. Wire hangers are preferred.
• All works must be two-dimensional (2-D).
Awards Reception will be held on Thursday, February 23rd from 6:00 – 7:00 pm.
For  more information, please call 863 635-7857.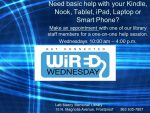 Need basic help with your electronic devices? Our staff can help! Call today for an appointment on our Wired Wednesdays – we can help you learn more about your device and help you with our library's free downloadable media service, Overdrive.
The Threads of Our Community Quilt group will meet on the second Thursday of every month here at the library.  The group meets at 5:00 p.m. in the common area of the library. For more information please contact Kellie or Teresa at 863 635-7857.
Our Books with Friends Book Club meets the first Thursday of every month at 6:00 p.m. in the Pat Wilson Florida Collection room.  Join us as we discuss all types of genres from Fiction to Mystery to Biographies and more!  For more information please contact Missy or Teresa at 863 635-7857.
 Save the Date – November 2, 2015 at 6:00 p.m.  Please join us as we host  Frostproof author, Patricia O. Malnati, as she presents her new book,  "After you."
This collection of heartfelt poems, penned with emotional and inspirational sincerity will touch all who have loved, and sometimes lost in their lives.
Bats: Myth & Reality: This PowerPoint program uses high resolution photography and research results to debunk the folklore, myths, and misconceptions that have plagued bats for centuries. Unfounded fears, often fueled by grossly over-stated disease risk and ignorance, are the major contributors to the dramatic declines in bat populations world-wide. This program discusses species diversity, environmental and economic benefits of bats, and disease risk. The program runs approximately 45 minutes and  is followed by a question and answer period.  Live Florida bats will be displayed.
Beginning September 10th, the library will revert back to its Fall/Winter Hours which are as follows:
Monday 8:30 am – 7:00 pm
Tuesday 8:30 am – 5:00 pm
Wednesday 8:30 am – 5:00 pm
Thursday 8:30 am – 7:00 pm
Friday 8:30 am – 5:00 pm
Saturday 9:00 am – 12:00 pm
Sunday  CLOSED
Be on the lookout for some mini super heroes roaming the streets of Frostproof! Our story for the day was "Kid Sheriff and the terrible toads" by Bob Shea and then each of child made their very own super hero cape!