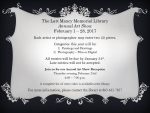 The Latt Maxcy Memorial Library will host it's annual Art Show  – Feb. 1 – 28, 2017.  Deadline for entry is Tuesday, January 31, 2017 at 5:00 p.m.  No late entries will be accepted.
Categories for entries this year are 1) Paintings and Drawings and 2) Photography – Film or Digital.
• Entries must be the original work of the artist exhibiting.
• Work must have never been exhibited in this show before, and artists are required to exhibit work completed during the past two (2) years.
• Paintings, photography, and drawings must be equipped for hanging.
No saw-toothed hangers are allowed. Wire hangers are preferred.
• All works must be two-dimensional (2-D).
Awards Reception will be held on Thursday, February 23rd from 6:00 – 7:00 pm.
For  more information, please call 863 635-7857.